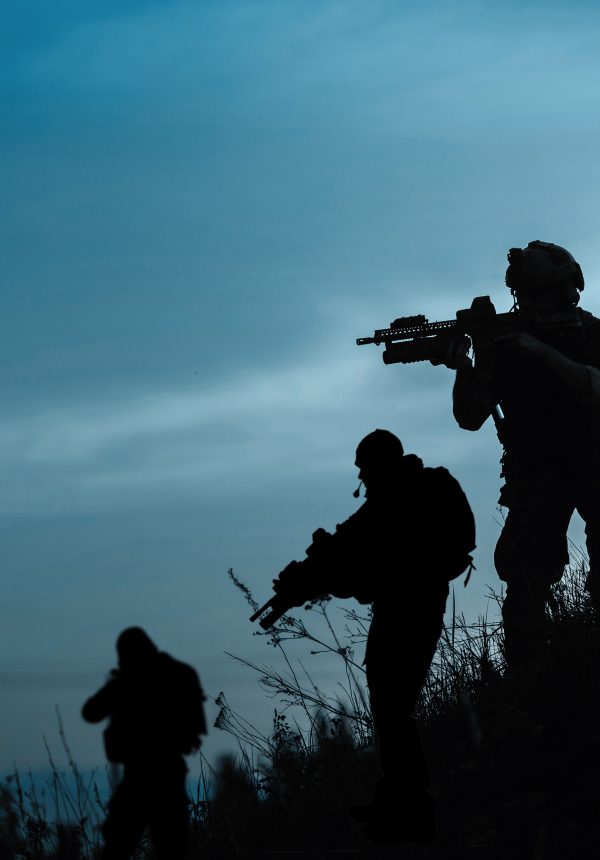 Millions of dollars missing – 'Our auditors need autonomy' – solutions to stem the corruption fuelling Sahel insecurity
The corrosive impact of abuse of power on prospects for peace and justice in West Africa was illustrated at our latest event staged at Peace Con '23. Campaigners from the region lamented a "celebration" of corruption in countries where millions of dollars earmarked for fighting terror have gone missing, while soldiers have lost their lives amid a lack of equipment. Our Advocacy leads Ara Marcen Naval and Najla Dowson-Zeidan round-up insights and recommendations shared by colleagues in the Sahel.
The Setting: a pivotal moment in time, where the world stands at the midpoint of the Sustainable Development Goals (SDGs) and embarks on discussions about the UN's New Agenda for Peace. It is a critical moment to shed light on corruption as catalyst for conflict, hindering peace and sustainable development.
Against this background, Transparency International Defence and Security convened a panel of speakers from West African conflict hotspots Burkina Faso, Niger and Nigeria earlier this month for an event at the Alliance for Peace's 2023 Peace Con . Our session was entitled "Tackling Corruption for Peace: Anti-Corruption Approaches to Address Fragility and Insecurity". The aim? To underscore the indispensable role of combatting corruption in achieving SDG 16's vision of peace, justice and strong institutions and to hear the voice of those who have dedicated years to holding their security sectors accountable, so that they can effectively confront conflict, insecurity and safeguard civilian lives.
The panel demanded that fighting corruption becomes a top priority, as enshrined in SDG 16. It's time for a global movement to hold governments accountable, paving the way for a future where corruption is dismantled, justice prevails, and sustainable development thrives for all.
Testimonies from the frontline
We heard stories from three countries: Nigeria, Niger and Burkina Faso.
Nigeria – corruption is celebrated
Bertha Eloho Ogbimi, representing the Civil Society Legislative Advocacy Centre (CISLAC) in Nigeria, illustrated how brazen corruption has obstructed progress in resolving the country's insecurity and insurgency in recent years. Conflict has ravaged the nation, fuelled by corruption that siphons funds, weakens security forces and hinders effective resolution.
Corruption in Nigeria has left the population vulnerable and routes to peace unresolved. Bertha painted a vivid picture, outlining various risk areas exposed in Nigeria's Government Defence Integrity index (GDI) assessment. Examples were shared of money being drained from public budgets, as in the case of the Dasukigate saga, where up to $2 million was reportedly embezzled from an arms procurement budget. This scandal left the security and defence forces under-resourced to face down multiple threats, while key roles were awarded based on nepotism rather than suitability.
Even more alarming, Bertha described how military personnel resorted to supplementing their income through weapon sales meant to combat insurgency. Bertha referred to investigations that 'have proven beyond doubt that one of the major reasons why this insecurity is yet to be holistically addressed is because of the fact that some persons are benefitting financially from proceeds of insecurity'.
CISLAC's senior programme officer talked about security agencies taking over small businesses belonging to citizens, blackmailing them into paying protection money to prevent accusations of      being engaged in terrorist activities.
She emphasised the impunity in the sector. Even cases of corruption that initially reach the courts and the attention of the media die down after a while and seem to not proceed. Bertha painted a grim reality, saying: "In Nigeria, corruption is celebrated … people are promoted to award corruption. This ought not to be so and cannot be the norm."
CISLAC has relentlessly championed the fight against defence sector corruption, actively engaging with Nigerian defence institutions. However, they have seen barriers to wider civil society engagement in these issues, undermining the mission to dismantle impunity and ensure accountability of the sector. Bertha stressed the urgent need to empower civil society, fostering their informed participation. This is an ongoing endeavour pursued by CISLAC in collaboration with partners across the nation.
Niger – translating challenges into recommendations
Shérif Issoufou Souley represented the Association Nigérienne de Lutte Contre La Corruption (ANLC). He described the inaccessibility of Niger's defence and security in the eyes of communities and civil society.
Hidden from view and therefore unscrutinised, he described a legacy of long-standing practices established during colonial times of secrecy and repression. Shérif shed light on "this sector's unaccountability, opaqueness and lack of communication with civilians".
Compounded by limited oversight stemming from defence secrecy, this environment has become a breeding ground for corruption and misgovernance. Shérif highlighted critical areas where corruption has seeped in.
Opacity driven by the abusive use of defence secrecy is an obstacle even to oversight bodies within audit and legislative departments, including parliament's defence and security committee. A recent independent audit commissioned for Niger's ministry of defence revealed that tens of billions of CFA Francs (tens of millions of US dollars) have been attributed in the MoD's public procurement budget, but with no sign of what happened to the money, with clear implications for the resources available to the armed forces.
In response to alarming corruption scandals in the sector, ANLC has advocated for legislation for transparency and accountability in the sector, through anti-corruption measures. This draft law is now supported by a group of parliamentarians in Niger. ANLC has also been working on mobilising civil society, organising public debates on security and corruption and bringing together committees of civilians and security actors. The goal has been "to promote good governance and tackle corruption… so that military and civil society can work hand-in-hand to address these issues".
The civil-military dialogue established by ANLC led to a national peace and security forum, grouping actors across sectors and geographies within Niger. Challenges were translated to recommendations which were presented to the President of the Republic of Niger, Mohamed Bazoum. Distrust between civilians and security forces in border regions undermines security, he was told. Security forces need to build better relations with local populations.
Burkina Faso – held hostage by corruption
Finally, bringing a vivid perspective from Burkina Faso, DCAF's senior Security Sector Reform (SSR) advisor Sadou Sidibe revealed the perilous impact of corruption on SSR efforts. "Corruption is the fuel for insecurity",  he said, reminding everyone of the profound impact it has on human security. "[In Burkina Faso] today … corruption has become systematic… security and development are taken hostage by this problem."
The young military officers who led the 2020 coup justified their seize of power by pointing to the corruption prevalent in the defence sector, where a lot of budget allocated for procurement programmes had been diverted by corrupt officials. The junta's justification for the second coup, in 2022, also hinged on claims of corruption – this time that a lot of anti-terrorism expenses had been diverted by their predecessors.
Consequently, corruption  is now centre-stage as an issue for debate in Burkina Faso, and Sadou described how corruption has become endemic in various positions, whether in the command chain, budget management and even in some cases with funders.
To address these issues, DCAF, in partnership with the the High Authority for State Audit and the Fight against Corruption (ASCE-LC),  has organised regional workshops with the key oversight bodies in Mali, Niger and Burkina Faso – together with civil society – to discuss and agree on best practice      in resource management in defence sector governance.
Sadou pointed to key areas where institutional reform can play a role in rooting out the potential for corruption: strengthening the autonomy of audit functions and regulating defence secrecy to enable      external oversight and scrutiny.  There have been positive developments in recent years, such as the example of RENLAC, a Burkinabe coalition which managed to engage a case to prosecute the Minister of Defence for corruption in 2018,. But  Sadou emphasised the important role of the justice system in following up corruption cases to show that there is no impunity. With defence budgets in the region soaring over the past five years, our closing speaker emphasised the importance of effective oversight mechanisms to reduce the threat of corruption in the sector.
Furthermore, to ensure peaceful, sustainable development with human security at its core, it is paramount that corruption remains at the forefront of national, regional, and global conversations.
As Martijn Beerthuizen, the Chair of our panel and Policy Coordinator at the Netherlands MFA, aptly summarised, "Corruption challenges trust in the security sector and tackling corruption as an issue will help us ensure peaceful societies."
The resounding message from the panel was clear:  we must forge ahead with unwavering determination, united in our mission to dismantle corruption's grip, uphold justice, and pave the way for harmonious and secure societies.